I just want to share something really beautiful that happened this week… Tanya was celebrating about six birthdays in her room this week and with the children decided that they would have one party day, with so many birthdays so close together it made sense to celebrate them together at once.
Jenny is a volunteer at our centre who comes in three times a week, works very hard and also plays hard and for this the children absolutely adore her.
So on party day, Jenny arrived with her party dress packed feeling excited for the day ahead she shared with Tanya that it is also her birthday very soon.
Tanya went out and bought flowers for Jenny and when she returned her and all of the children sang happy birthday to Jenny and gave her the flowers. You could see all over her face how special this made Jenny feel.
You see Jenny has an intellectual disability and experiences a lot of hardship as a result. I think probably every day of her life Jenny experiences being marginalised in some way because of her disability.
But on our party day what Jenny experienced was inclusion and you could see how happy that made her feel. We hope to help Jenny to feel acceptance and inclusion every minute of every day when she is with us at Eskay kids.
If you are at our service and haven't yet met Jenny, please do say hi and have a chat. Without a doubt she would know your child well if they attend here.
If you are out in the community and see an opportunity to include some one who experiences the same sort of hardship that Jenny experiences, remember it is both the big and small things that count to make that person's life easier and happier – a bunch of flowers, a birthday wish, being accepting, being kind and being inclusive all go a very long way!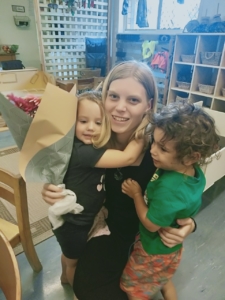 Written by Summa Brooks – The Director at Springfield
https://eskaykids.com.au/wp-content/uploads/2019/11/logo_1-295x300.png
0
0
admin
https://eskaykids.com.au/wp-content/uploads/2019/11/logo_1-295x300.png
admin
2020-03-20 06:12:37
2021-05-27 02:17:25
Inclusion