Hello Everyone,
My name is Kisie Sharp and I am one of two fully qualified teachers here at Karana Early Education Centre who run the Kindy program. I work Monday, Tuesday and Wednesdays and my co-teacher is Victoria Keniry who works Thursday and Fridays.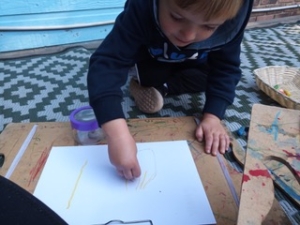 There have been some conversations lately about how we run the Kindy program within the new dynamics that we have created and I just wanted to forward on some information about what we do. Although our program may look a little different to that of other centres, fundamentally we are a government approved Kindy and our program is run in accordance with the Queensland Kindergarten Learning Guidelines (QKLG). Along with the rest of the centre, we are committed to providing the best possible care for our children and we work closely with the educators in your child's care group to provide a program that encourages exploration, thinking, discovery and learning whilst they maintain those dyadic relationships with their carer that are so important to their wellbeing.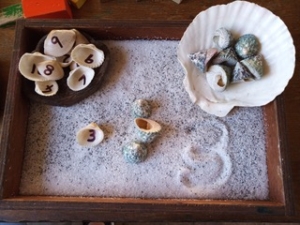 The QKLG addresses five focus areas of learning. To foster children's IDENTITY by building their sense of security and trust, helping them to act independently and helping them to build confident self-identities. To teach them CONNECTEDNESS by helping them build positive relationships with those around them and to teach them to have respect for diversity and the environments they live in. To help children develop their WELLBEING by building a sense of autonomy, exploring ways with them that keep them healthy and safe and by helping them to develop their physical well being (control, strength and an awareness of senses). To encourage ACTIVE LEARNING by building positive dispositions to learning and encouraging children to be confident, involved learners. And finally, the QKLG address the area of COMMUNICATING. This learning area explores language, literacy and numeracy.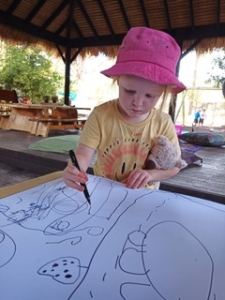 Our job is to ensure that these learning areas evolve holistically. We do this by providing learning environments in which children are able to meaningfully engage in, explore and learn from. We look at children's interests and use these as a base to inform the sorts of environments we set up. We look for teachable moments to extend on what children are doing and learning, and we scaffold play to encourage deeper thinking and exploration. We are very cognisant of the children in the Kindy program and we make sure those children are seen, listened to, planned for and assessed according to the learning guidelines.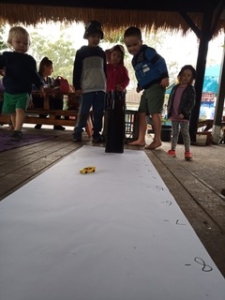 Our planning consists of intentional and spontaneous teaching. We might have a goal in mind – such as setting up a water trough with different sized containers to encourage mathematical explorations (measurement, comparing volumes). It can be spontaneous, such as children playing in an imaginative game and we add props so they can take their play further. For an example, if children are pretending to play shops we might add some paper and pencils so they can 'write a list' of what they want or we might add some old junk mail catalogues to give them ideas that could extend their learning. We might see a skill that needs working on, such as encouraging correct pencil grip, so we will provide lots of opportunities to mark make. There are many facets to what we do, but the fact that we run an unstructured program ensures upmost involvement and learning from our children. After all, who wants to learn when they are made to sit down and do something they have absolutely no interest in!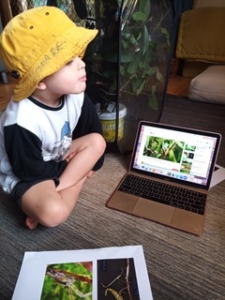 In the second half of the year we will run an information evening for those families that would like a bit more information on the Kindy program next year. I hope I have shed some light on what, why and how we do things. If anyone has any further questions in the mean time, please don't hesitate to contact either myself or Victoria.
Thank you,
Kisie Sharp, ECT.
https://eskaykids.com.au/wp-content/uploads/2019/11/logo_1-295x300.png
0
0
admin
https://eskaykids.com.au/wp-content/uploads/2019/11/logo_1-295x300.png
admin
2020-06-29 02:05:25
2020-06-29 23:38:16
June Blog Piece from Kisie