When I was allocated a room for the year I was excited to be able to put a piece of me into our centre and to share my visions of a home like environment with the families in our centre.
I was lucky enough to work in the room for the last few weeks of the year before room changes occurred in the new year. During this time I was able to familiarise myself with the room layout, the age of children that would occupy the space regularly and what their interests were. When it came time to begin the change over process I had a layout in mind that took in to accounts the children needs, interests and the mood that I wanted to create. My vision for the room was to use  natural tones, have a calming feel, be familiar to children and to be a comfortable space for all.  I wanted the children and families to feel at home in this space and not want to leave. I also wanted to create a space that I wanted to be in and that other staff wanted to be part of. I believe I have achieved this and this is how.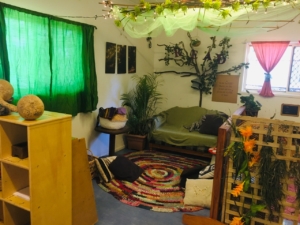 In using a comfy couch, soft window furnishings a textured matt (made from recycled sari's ) and lots of cushions I created a snuggly book area and quiet space in the back corner of the room. In having this space at the back of the room its away from the noise and distraction from the other parts of the room and outside noise. To help bring the environment inside, I positioned tree branches on the wall to create a tree shape and added a vibrant plant to the area. I often find children laying on the couch looking up at the tree branches just pondering and enjoying the quiet space. To create mood, lighting plays a big part, so from the ceiling fairy lights have been hung  amongst the hanging netting. These lights often come on during rest time or when I feel the children need some calmness in the room.
Home corner is positioned next to where the  book corner is to help create that home like feel and bring the spaces together. The book corner acts like a lounge room and our home corner reflects the kitchen and dinning area of a real home. When thinking about what to include in the room I knew that the children that were going to be using this room love role play, in particularly playing families.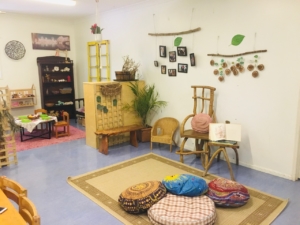 They  enjoy dressing up, taking care of babies and preparing meals. Our home corner encourages these experiences  to occur. In using a shaggy rug under the table that is common in many houses, a real size coffee table, a table cloth and other things commonly found in homes it creates that familiarising and creates a link between  home and the centre making the children feel more at home. When choosing a big rug for our main floor space I wanted a natural  tone with slight patterns to keep the calm while not  feeling clinical or sterile. I repeated the  same style of rug in a few other places to create repetition and to ensure  it looked like it was meant to be there and wasn't just added to the room for the sake of having a rug.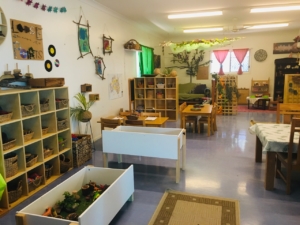 In my own home I love to repurpose and make things new again, this is something I do with my husband that gives me joy.  We together have up-cycled a few items for  this room  and given them new life.  This has allowed a piece of me to be part of this room while serving a purpose. Together we recycled some old drawers to create some deep tub like storage spaces.  The children just love using this and they often help to decide what we place in them. It allows the children to create with different materials and items while keeping the pieces all together allowing the room to feel sorted and organised. The windows in home corner have also been repurposed from an old home and help to create that feeling of a real home.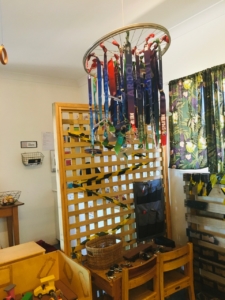 In regard to, the typical items that you may found at a centre that being children artwork, birthday charts, family photos and what we did today books, these items are all in our room however in in the typical style. The children artwork is displayed in different ways and only a few of the children's artworks can be found on the walls at any given time, just like in a home.  The children have also helped decorating around the room and played a part in putting themselves in the room swell, they helped paint signs, create mobiles and helped decide where things go and what things to get out for the day. When sharing and thinking about children artwork I have tried to focus more on the process not the product.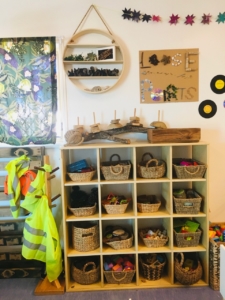 The children birthdays are marked on a calendar and I created a hanging wall feature with birthdays similar to the one at my parents  house, once again a piece of me is in the room. What home isn't complete without family photos so over time the families in my room have been sending me family pictures that I have been having up altogether, they take much joy in showing others and telling them who is in their picture. I have displayed the photos in individual frames and hung them from a beautiful branch that a child found outside — once again allowing the environment to be part of our room and the children to feel part of and identity with.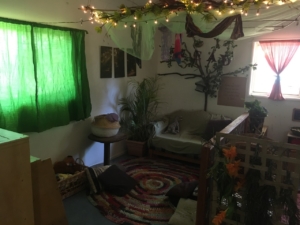 At the entrance to our room the children have individual locker space for their bags, a labeled pocket for their hat, a shoe rack is present and a comfy chair that was  repurposed for families to sit on when dropping of or picking up. By allowing children to have their own specific places where their things belong they feel settled and feel like they belong. It also helps with drop of and pickup knowing where things go and where they are, it helps to make that transition time less frantic and more relaxed for parents and children (and me the worker).
My next step is to add more cultural items and artefacts that are from families so   the   other children can learn about the different cultural backgrounds and diversity in our room.  This can include common items found in the children homes, things they collected on holidays or photos from their home lands. This will also contribute to the children having that piece of them in the room and to continue to share their identity with others.
Whenever I'm in my room I can guarantee it is the busiest room at our centre, the children flock to and want to be in it and want to the part of it . Even though there may be many children the room at once it doesn't feel chaotic or busy as the layout works. It doesn't get disorganised or messed as I feel the children can sense that things all have a plac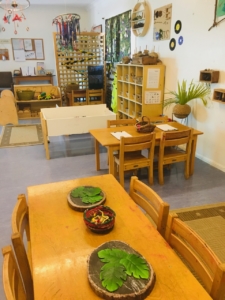 e and they respect that and help put things away.
I feel that staff members  and parents love walking through just be part of the room and to  get that calm relaxed feeling.  By creating a warm relaxed environment  parents feel comfortable and assured that their children feel they 'belong' and feel they can 'be' part of the group and can 'become' anything. I am proud of what I have created and what this  room has to offer, a home-like environment.
https://eskaykids.com.au/wp-content/uploads/2019/11/logo_1-295x300.png
0
0
admin
https://eskaykids.com.au/wp-content/uploads/2019/11/logo_1-295x300.png
admin
2020-04-06 06:39:44
2021-05-27 02:17:07
My Home-Like Environment