Reflection by Trisha Dean (Director, Karana)
January is such an unknown entity in the world of an Early Childhood Service.  There is always so much going on – new children starting, children returning from holidays, children transitioning rooms, children coping without an older sibling who is heading off for the world of schooling for the first time.  It's often like a lottery – you never know what is going to happen from one day to the next.
I've stopped to pause and reflect on this dynamic so far this year.  There have been a few tears from some of our younger cohort, as they readjust after extended period of absence over the Christmas break.  Mostly short lived, and mostly just on separation from parents they have had extra time with over the break.  It's really hard to let go of mum or dad again when you've had them at hand.  Because, let's face it – while we have beautiful and trusting relationships with children – there is never a replacement for a parent.  Once the parent leaves, and they've had some extra special attachment time, things pretty quickly spring back to a carefree existence.
One of the things I've always noted over my time in working with children, is the adjustment to a new room.  And this is what my reflection this year mostly revolves around.  Our 3.5 plus year olds moving into our Kindergarten program without exception, have re-entered the arena with buzz and excitement about now being a "Possum Kid".  They wear this new found status around the centre with chests puffed.  All of a sudden – they are filled with a sense of pride of being the big fish.  Not to mention, the call of Mayfield excursions is bubbling to the surface.  So there is pretty much no issue with this lot moving from the Platypus room.  They understand, they've had the conversations, they've been spending lots of their time preparing for this moment, they already have relationships with the adults, and they are super ready!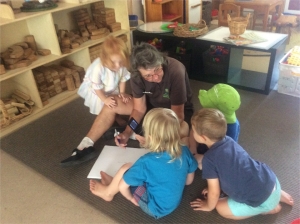 Then there are the children transitioning from the Kookaburra room to the Platypus room.  The children ranging from 2.5 – 3 years.  While conversations happen, it is hard to prepare children of this age for change.  They really don't grasp the concept until it is actually happening.  And what I note this year, is our ability to ease this through without a hiccup.  I believe that our ultimate multi-age environment is the biggest factor here.  The fact that there is no corner of our entire centre that is not known and familiar to the children.  While they have their "home room", ultimately they are free to be wherever the wind takes them.  So really, a room change is just a new place to put your stuff.
The one big change, is the primary relationships with adults.  And the most wonderful thing about being at Karana, is that a child is never separated from an adult that they form a primary relationship with.  They are always free to be with the adult they most strongly relate to.  Even if that person is not one of their room staff.  There are no off limits.  So changing rooms does not look like being separated from someone you really need when your cards are down.
It all sounds so simple……. And it actually is.  So why does this transition period look so different in many other settings?  Why does it have to mean losing the person you trust most?  My reflection makes me sit and softly smile, as I consider the empowerment of the child in our space.  Because at the end of the day, their wellbeing is all that really matters.  And I think we are at that point, where it would be hard to do this thing any better!
https://eskaykids.com.au/wp-content/uploads/2019/11/logo_1-295x300.png
0
0
admin
https://eskaykids.com.au/wp-content/uploads/2019/11/logo_1-295x300.png
admin
2019-12-06 15:30:24
2021-05-27 02:21:23
Transitions